SILSEF is a French start-up, founded in 2010, based at Archamps Technopole on the French-Swiss border near Geneva.
We share a 2 000 m²  plant with wafer manufacturer Sil'tronix Silicon Technologies.
The facilities include clean rooms to provide the quality required for micro/opto-electronics and bio-medical applications.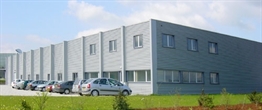 The team includes 10 highly skilled staff, mostly qualified engineers and PhDs.
It is supported by the NILAB (Nano Imprint Laboratory), a technology platform that brings together first class academic and industrial partners. Thus, in addition to its internal resources, SILSEF can call upon wide scientific and technological resources to assess your requirements and best respond to your specifications.
1.Tailored development to technical transfer

2.Tools supply (stamps, master molds), consumables, equipment
→ Small production runs as a subcontracter
→ Large volumes: dedicated technology transfert